Asset-Based Lending with Gibraltar
Gibraltar Business Capital works with public and private U.S. lower-middle-market companies across all industries to meet capital needs up to $100 million. We build asset based revolving lines of credit and equipment term loans based on approved assets, including commercial accounts receivable, raw and finished goods inventory, machinery & equipment, and commercial real estate.
Have questions about how ABL could work for you? Our expert sales team is ready to answer them.
What is Asset-Based Lending and How Does it Work?
In contrast to commercial loans that are based primarily on financial ratios heavily driven by company profit and loss, asset-based lending focuses on the value of a company's assets to establish credit availability. In other words, asset-based lending allows you to tap into the value of your assets to get the capital you need, even when your current financial picture isn't as strong as banks require.
Various company assets can be leveraged as collateral, including accounts receivable, inventory, and machinery and equipment. Asset-based lines of credit are calculated on a "borrowing base" of the value of all your eligible assets and an advance rate that varies by the type of collateral.
Once you have your line of credit, your company can borrow as much or as little as it needs, whenever it needs to, up to your limit. Your line of credit will also offer flexible payment and re-borrowing options.
Types of Asset Based Lending
Accounts receivable financing
Inventory financing
Equipment and machinery financing
Commercial real estate financing
Temporary sales downturns
Industry upheavals
Seasonal sales fluctuations
Acquisitions
Turnarounds
Need for quick expansion
Growth opportunities
Refinancing and bridge loans
Deep experience. Creative solutions. Reliable capital. We help business owners and their advisors execute on their plans, at their pace, no matter what the circumstance. Click on the video to the right to hear directly from Gibraltar's EVP and Head of Sales, Anthony DiChiara, regarding the Gibraltar difference.
Costs vs. Benefits of Asset-based Loans
Costs can be higher for ABL credit and you may need to have regular evaluations of your asset values, but this type of alternative financing can help companies manage their finances through a transitional period. You'll need to weigh the cost and benefits for your company's special circumstances.
One of the largest benefits offered by Gibraltar is industry expertise. A company that understands your business is better equipped to assess the real value of your assets and also see the potential in your business. This can result in a larger credit facility, and that can make all the difference in meeting payroll, buying supplies, or investing in growth initiatives.
Timing also can be a consideration, especially if you're looking for funds to meet a short-term or immediate challenge. The regulations banks must follow can lead to longer turnaround times. Also, banks often have complicated committee approval processes. Gibraltar's accessible decision makers can be more agile in providing timely approvals.
Advantages of Flexible Lending
Because they are regulated differently from traditional lenders, non-traditional lenders like Gibraltar Business Capital can also offer more flexibility in structuring asset-based loans. Banks typically have tighter restrictions on loan limits, liquidity levels, repayment schedules, and other special covenants. They have less leeway to forgive performance hiccups and sales fluctuations, or to deal with the challenges of high-risk industries, atypical customer concentrations, or anything outside the box, including some types of collateral like unbilled accounts receivables.
Without these restrictions, Gibraltar is able to craft effective financing solutions to many special situations and help a variety of companies that are not eligible for traditional loans. How can we help you?
Asset-Based Lending Resources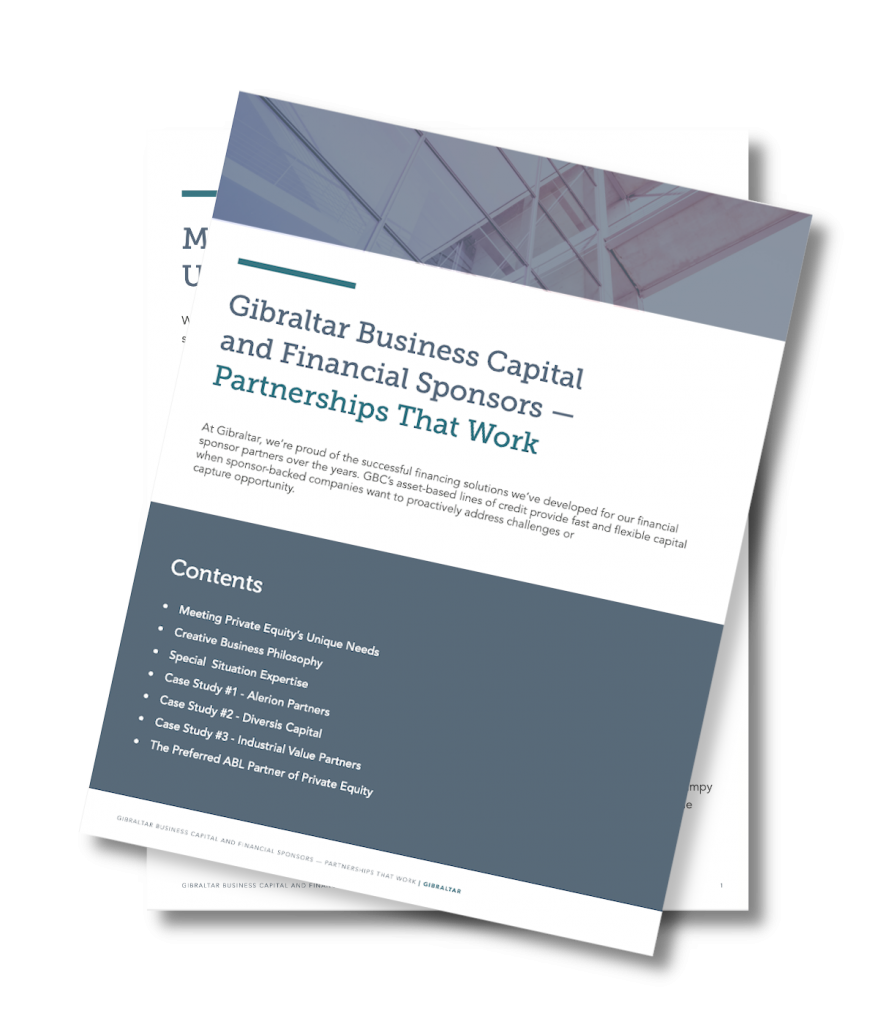 Why Gibraltar Business Capital?
We help business owners and their advisors execute on their plans, at their pace, no matter what the circumstance.