Your Asset-Based Lending Partner
Gibraltar Business Capital provides stability during periods of transformation for lower mid-market businesses.
Asset-Based Financing Helps Sponsor-Backed Food Manufacturer Grow Healthy
Asset-Based Loans from $3-20 Million
Delivering quick access to working capital, we partner with businesses when banks and other funding sources are limited or too restrictive.
Typical Borrower Profile:
U.S. Companies
$15MM – $150MM in Revenue
Most Industries
Accounts Receivable
Inventory
Machinery & Equipment
Real Estate
GBC HAS UNDERWRITTEN
Over $500MM
IN TOTAL COMMITMENTS
OVER
200
BORROWERS FUNDED
Why Gibraltar Business Capital?
We help business owners and their advisors execute on their plans, at their pace, no matter what the circumstance.
Our Partnerships with Financial Sponsors
Hear directly from one of our financial sponsor clients, Alerion Partners, about the Gibraltar difference and why we're the preferred partner of private equity.
"The Gibraltar team took the time to understand our unique business and crafted a creative solution that enabled us to continue to grow during these unprecedented times."
Kevin Keenley, Fundamental Capital
Asset-Based Lending Resources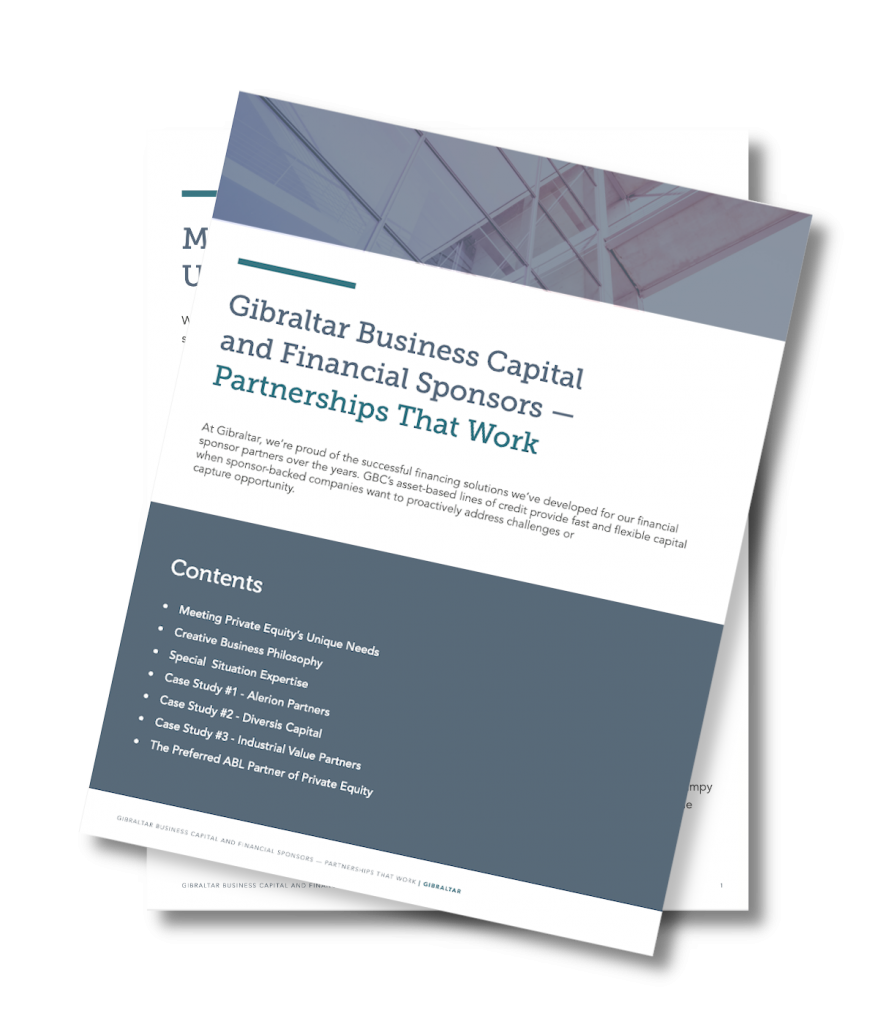 Former Wells Fargo Capital Finance Credit Leader Jeff Stanek Joins Gibraltar Business Capital
Gibraltar Business Capital has bolstered its team of senior-level credit and asset-based lending professionals with the addition of Jeff Stanek …
Choosing a Reliable Capital Partner: A Checklist For Private Equity Sponsors
Gibraltar Business Capital (GBC) has carved a name for itself as the preferred ABL partner of private equity by delivering …
Gibraltar Spotlight: Get to Know Jean Elie Jr.
A seasoned lender with three decades of vast experience, Jean joined Gibraltar Business Capital as an SVP Account Executive in …