Your Asset-Based Lending Partner
Gibraltar Business Capital provides stability during periods of transformation for lower mid-market businesses.
Asset-Based Financing Helps Sponsor-Backed Food Manufacturer Grow Healthy
Asset-Based Loans from $5-100 Million
Delivering quick access to working capital, we partner with businesses when banks and other funding sources are limited or too restrictive.
Typical Borrower Profile:
U.S. Companies
$25MM+ in Revenue
Most Industries
Accounts Receivable
Inventory
Machinery & Equipment
Real Estate
GBC HAS UNDERWRITTEN
Over $500MM
IN TOTAL COMMITMENTS
OVER
200
BORROWERS FUNDED
Why Gibraltar Business Capital?
We help business owners and their advisors execute on their plans, at their pace, no matter what the circumstance.
Our Partnerships with Financial Sponsors
Robin Oertel from our team and Michael Sullivan of Kinzie Capital discuss a recent asset based financing partnership and how it specifically demonstrates Gibraltar's creativity in structuring financing solutions.
Asset-Based Lending Resources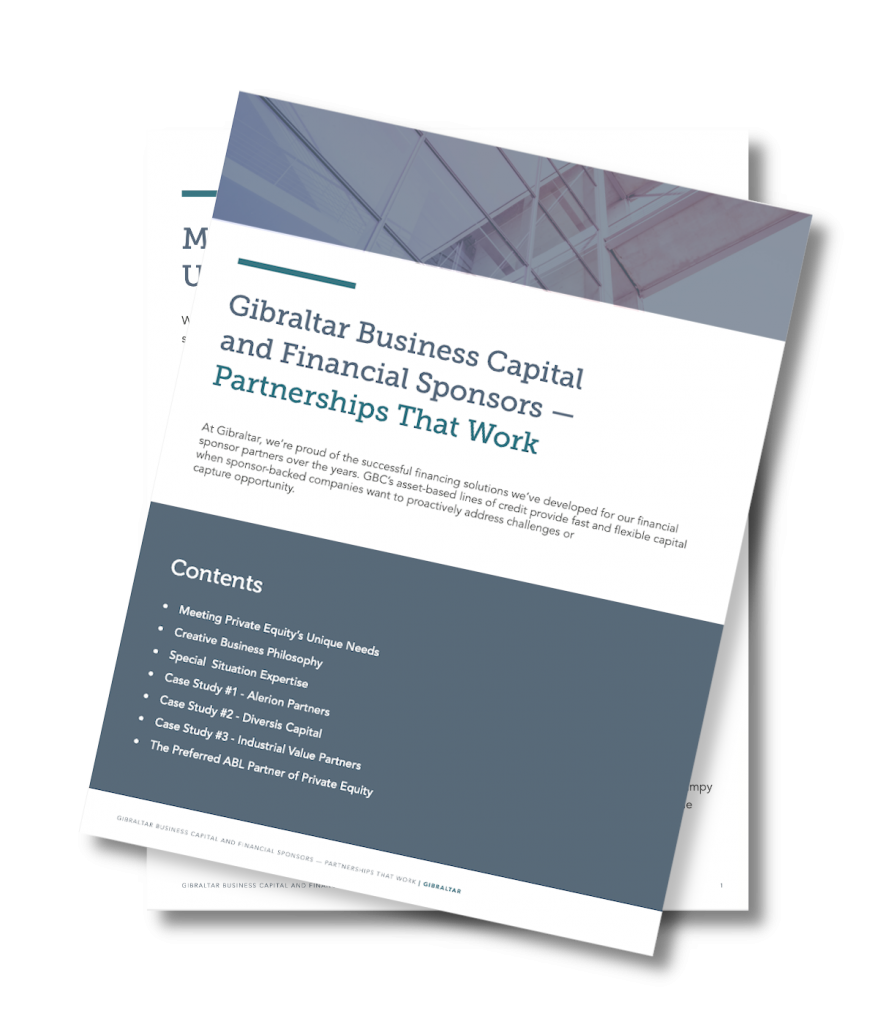 DealMinded Employee Spotlight: Mike Conrad
In his nearly eight years with Gibraltar Business Capital, Michael Conrad, senior vice president, business development officer, and team leader, …
Gibraltar Provides $27.5MM Credit Facility to Home Organizational Products Supplier
Gibraltar Business Capital ("Gibraltar") is proud to announce the closing of a $27.5MM senior secured revolving credit facility with Whitmor, …
Gibraltar Backs Revolution Foods with $20MM
Gibraltar Business Capital (GBC) is pleased to announce the closing of a $20MM senior secured credit facility in support of …